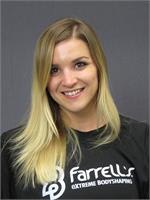 Kelli Underwood
Why did you start Farrell's?
I was overweight and unhappy. I decided it was time to do something about it and kickboxing seemed like a pretty awesome way to do it. I fell in love immediately with FXB.
How has Farrell's changed your life?
I got my life back. I'm happier and more confident than I've ever been.
Why did you decide to coach?
I want to inspire others to push to their potential and help them to achieve their goals.