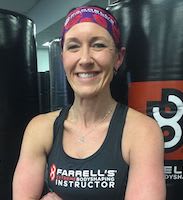 Denise De Hamer
I started my lifestyle change with exercise and nutrition about five years ago. I was at my heaviest, weighing 240 lbs. and wearing a size 26 in clothes. My health was awful. They called me the bag lady because I had a bag full of pills between prescription pills and other types. I was taking a strong prescription for migraines, a prescription for some stomach issues, my thyroid medication, a pill prescribed to me by my doctor for assistance with weight loss, pills to assist with my blood sugar and pain medication for my back. I also kept other types of pills for inflammation and stomach assistance if the prescriptions didn't work. From time to time I also took medication to help me sleep. I experienced a lot of pain on a daily basis. I couldn't even sit in a chair for over five minutes without having excruciating pain trying to get up out of the chair. I had no energy and I was battling depression. I guess you could say I was hitting rock bottom.
It was five years ago that my daughter was afraid she was going to lose me so she did something about it. She got me going on some better nutrition and got me exercising. I did a lot of walking and a little bit of working out at the gym. I also had a good friend that talked me into joining a local gym and she became my personal trainer and we worked out 2-3 times a week together with specific workouts. It was very slow going for me but it was a start.
That year I went from 240 to 205 lbs. and dropped one size. Then I saw an offer for Farrell's. I talked my friend, and personal trainer, into doing Farrell's with me. I knew it would be difficult, especially for me, but I was ready to really advance my health this since my progress had been very slow.
When I started Farrell's I was at 205 and wore a size 24. About three weeks into Farrell's I didn't have any more migraines, which I battled almost daily before. My stomach issues stopped and my thyroid medication that had to be adjusted three different times for levels didn't need to be increased anymore. From that point on more things kept improving in my life. I think from week five and on was when things advanced quickly for me.
In my 10 weeks I didn't miss a day and I followed the Farrell's way of eating to the letter. They called me the incredible shrinking woman during my 10 weeks. I kept gaining strength, energy, I could sleep again (I had issues sleeping as well) and my stress went away. I also wasn't battling depression. At the end of my 10 weeks I was 180 lbs. and I was in a size 12.* My muscles had really started to build and my body was really starting to tone.
The biggest part of all of this has been my health, stress, depression, energy and just quality of life. I finally was healthy! Yes, it was a HUGE bonus for me to have the body transformation that I have had, but having all of the other things improve meant so much more. I also made a BIG change last August through December. I got down to 169 lbs. and a size 10 as well as really built muscle and defined my muscle.
I tell people to NOT focus on weight because this is a body transformation program but I just wanted to give you an idea on where I started in all of this and where I am now.
I still have goals that I want to achieve. I am not done by any means. I want to keep pushing myself on kickboxing days and keep pushing myself on band days. I want to keep getting stronger and improving always. Now my passion is to not only keep myself on track, but to help others.
I became a coach and an instructor and it has been a truly rewarding experience for me to help others in this way. I also get to workout with my daughter and two nieces!
What I have found is that every single person has his or her own reason for trying Farrell's. It doesn't always have to be weight loss. I had a guy on my team once that was very slim and had hardly any muscle. The difference between his before and after picture was INCREDIBLE! He won the $1,000 at the end of the 10-week session. There was another guy that had huge changes in his body, but also in his life. He was battling so many internal health issues and he really came out of his shell and got rid of his depression. He was one of the top two people in his session.
So you will definitely see people come into this program for different reasons. It is pretty awesome to go on this journey with everyone. It is not just about the workouts. It is about the process and meeting new people that become your friends and family too. You become accountable to each other and push each other. You support one another and cheer each other on. You become a part of the journey for others.
I remind myself daily there are three Cs in life: Choices, Chances, and Changes.
You must make a CHOICE to take a CHANCE or your life will never CHANGE.